Many sports are famous around the world. One of them is golf and this is a sport that brings everyone together. You can enjoy watching different courses, seeing how far people can hit the ball and following different people in various competitions. Indeed, many people have their favorite golfers that they like to keep up with.
In particular, there are many people that like to admire female golfers. It is interesting to see how they can perform on courses. Indeed, there are many that also admire them for their looks. Here is a list of the most beautiful female golfers from around the world.
Blaire O'Neal
Let's start off by talking about Blaire O'Neal. This beautiful woman does her fair share when it comes to golf. She is known for playing the sport, as well as being a model. Plus, she has been a host on golf channels on television. So, if you are someone that keeps up with golf, it is likely that you have seen her face at some point.
In particular, many people know her for being the winner of Big Break: the Dominican Republic, which aired on Golf Channel. She was also the runner-up on Big Break: Prince Edward Island. Think about these as golf reality shows, which were very popular.
Cheyanne Woods
Up next, we had to include Cheyanne Woods. Of course, it is likely that her last name is going to attract attention. Indeed, she is the niece of famous golfer Tiger Woods. She is stunning, and she has also inherited the golf genes. Before she became a pro, she won over 30 tournaments. In addition, she went on to be the winner of Volvik RACV Ladies Masters.
Currently, Cheyanne Woods is 32 years old. She was born in Phoenix, Arizona, and she turned professional in 2012. Indeed, she is an interesting player to watch, as well as being beautiful.
Michelle Wie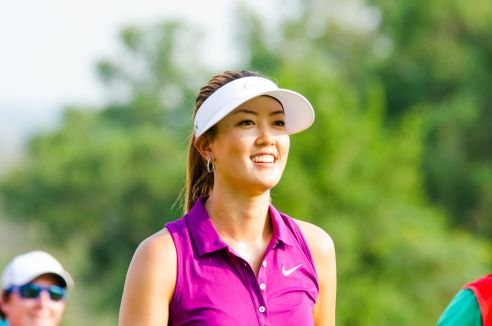 Another beautiful woman to make the list is Michelle Wie. She is a fantastic player and she plays on the LPGA Tour. in particular, she is known for her achievements as a young player and was the youngest to quality for events. She has had many successes in her career. But, she did attract attention by playing in men's tournaments.
Off the course, Michelle Wie is also known for being married to Jerry West's son. In addition, they have a child together and she is going to be three years old.
Paige Spiranic
Next on the list, we have Paige Spiranic. She is often admired for her looks, as well as her skills as a golfer. While she has not played as many games as she used to since 2016, she is someone that many people like to follow. In particular, if you take a look at her Instagram, you will see that she has 3.7 million followers.
There are some people that ask whether Paige Spiranic is a real golfer since she has become quite a personality online. Well, the answer is yes. She did use to play professionally. But, as we have mentioned, she chose to retire in 2016.
Maria Verchanova
If you are wanting to branch out and realize other nationalities when it comes to women's golfers, then you must check out Maria Verchanova. She is a Russian golfer and the first to be a member of the Ladies European Tour. She is also known for her record in the Rio Olympics, which includes a 62 on the course.
Maria Verchanova started to play golf when she was just 12 years old. Since then, she has worked hard to perfect her skills. You can check out her Instagram and the model photos she has had taken. 
Melissa Reid
Another beautiful woman golfer that you might want to admire is Melissa Reid. She is from England and you can see her play on the Ladies European Tour. After playing golf for a while, she became a pro in 2008. Many people remember Melissa Reid because a bobcat came onto the green during the 2019 Hope Founders Cup.
During her career, Melissa Reid has had seven professional wins. As of 2022, her world ranking is 220. She also won Ladies European Tour Rookie of the Year in 2008.
Jessica Korda
There are many reasons why Jessica Korda attracts attention. Of course, she is beautiful and this is something that makes her stand out. But, she is also a talented US golfer on the LPGA tour. She has won five so far. In addition, she does have famous parents, which means that she is more famous than other golfers out there. We are talking about being the daughter of Petr Korda and Regina Rajchrtová. In addition, her sister is also a golfer, and her name is Nelly Korda.
Jessica Korda is turning 30 soon, and she went professional in 2010. Indeed, she is one to watch, and her current world ranking is 16. She posts regularly on Instagram, with a following of around 288,000. She also likes to post her opinions on Twitter. So, these are places where you are able to keep up with her. 
Natalia Ghilzon
Last but not least, we have Natalia Ghilzon. She has made the list because she is another golfer that many people think is beautiful. She is from Canada and is currently 32 years old.  She turned professional in 2011 and has gained a lot of attention since then. She appeared on Big Break Atlantis and competed in the CN Canadian Tour event at Ambassador Golf Club in 2013.
Therefore, here are eight of the most beautiful female golfers you can enjoy watching. They have skills and experience that make them good at the courses, as well as being beautiful to see. So, you can check out their personal profiles and see if you want to follow any of them in the sport or in their personal lives. Indeed, you can follow them and see what they do on a daily basis.
(Visited 12 times, 1 visits today)