Social networks have become a medium for modern youth where they meet, shop, and simply demonstrate something new from their lives with the help of visual content. You can't blame them – to say it's hard to get away from all the shorts, reels, and news from the lives of generation idols and influencers is an understatement.
And even if you disapprove of using Instagram from an early age, you may be unaware that your child is already gone undercover with an Instagram account under a different name. In such cases – and not only – many parents use the Instagram spy app.
How Do You Know Whether You Need to Spy on Someone's Instagram
Teenagers are often difficult to reason with – especially when it comes to hype things where adults, as they think, are out of the loop. But the trump card of grown-ups is life experience and the understanding that behind this facade of smiles and a positive vibe, children are in danger that they face one-on-one if parents do not take the necessary measures, e.g., Instagram DM spy.
Interestingly, the Instagram platform accepts users from the age of 13, and at the same time, according to statistics, the most active group of users here are men aged 18 to 34 years. In addition, unfortunately, all online social networks have the other side of the coin:
uncontrolled communication with the contingent of any intention,
frequent cases of bullying and harassment,
targeted marketing of "goods" and assets aimed at a teenage group,
exposure to dangerous habits and behaviors, etc.
As you can see, it is far from a simple curiosity that may prompt you to consider monitoring when it comes to a child's social media life.
Instagram Spy Apps in Action: How Do They Work?
While Instagram itself does not associate itself with third-party Instagram spy apps, the task of selecting a product falls on the shoulders of users interested in such a service. Of course, they have questions about whether this is possible at all and what is the functionality of online monitoring tools.
First, online tracking products that pass muster are commonplace. However, remember that since the program will need to somehow extract Instagram data from your child's device, for example, it means the software needs to be installed precisely on it. At the same time, you can control and monitor the target device from your phone or computer. Second, the features offered will vary in quantity and quality, depending on the product. Having eliminated the poor-performing apps, we'll look at the functionality of the best ones further on.
5 Best Apps to Spy on Instagram DM and Maintain General Device Supervision
You want to be spared the need to snoop into their phone while they are not around or forget to lock their phone – that can be a rather inefficient approach undermining their trust. The following Instagram spy apps are of big use to view private Instagram profiles. The apps require one-time access to set it all up and ring up the curtain
uMobix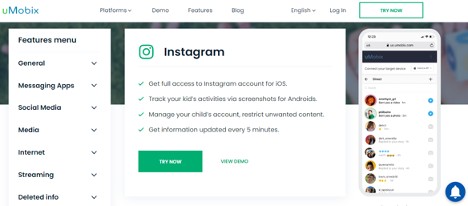 Child upbringing is almost a round-the-clock activity, meant for years, and uMobix will be ready to take over your guard when you need it. This is an app that lets you spy on Instagram DM but not only; other Instagram-centric features include:
remote child account management
absolute access to the account (iOS gadgets)
Instagram activity tracking based on screenshots and fast data updates (for Android)
the ability to track likes, stories, links, and other content hidden from prying eyes but available to you
By choosing this Instagram spy app, you will go with the tried-and-true option – the device holder will not receive any notifications about the activity of the application, and you, in turn, will be informed about the activity in other social media, messengers, locations, and many other details.
XNSPY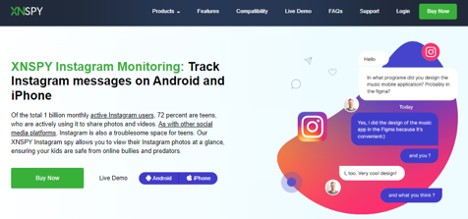 Instagram surveillance is also included in the potful of XNSPY tracking features. It won't surprise you with such deep-eyed access to every corner of the Instagram profile as uMobix, but you can use their screen-recording feature at any time and see what your child sees on their Instagram feed or IGTV at the time.
Also, you'll have the leverage to monitor photos that a child has received or sent to control their online behavior and prevent the disclosure of intimate pictures that can later be used for blackmail or bullying. And lastly, XNSPY serves as an Instagram DM spy.
eyeZy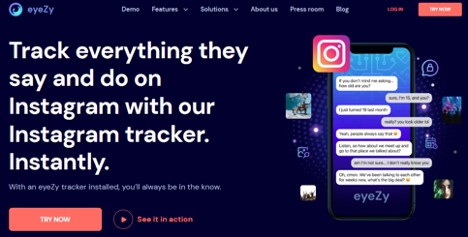 Instagram tracking is part of eyeZy's Social Spotlight feature, but it's clearly not its strong point. The application allows you to spy on someone's Instagram DM, that is, read messages and see pics if there are any, and that's pretty much it. Additionally, there's message time and date info enclosed.
You could probably dig out more info using the screen-recording and keystroke-capturing feature, allowing you to ensure the child's safety throughout all messengers and socials. Web Magnifier adds significantly to your efforts to monitor regularly which websites they visit most often.
mSpy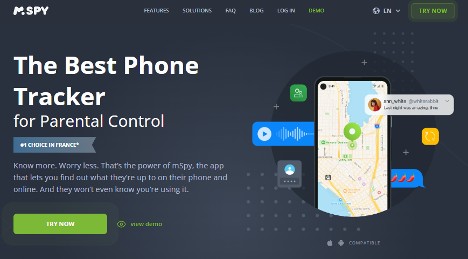 Calls and browsing history, SMS and photos on their phone – these and other data will be available to you in addition to being able to spy on someone's Instagram with mSpy. Go through their private messages and find out about all the frequent conversations and strangers who might be texting your teen for all sorts of purposes, even if their account is private. In cases where Instagram DMs are not informative enough, mSpy offers screen recording, GPS tracking, and monitoring other social networks like Facebook and Snapchat.
Cocospy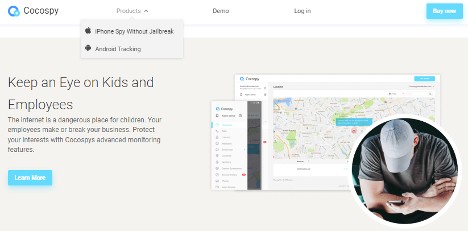 Cocospy was also not designed to exclusively spy on someone's Instagram – it combines the functions of the Instagram spy app and the all-inclusive spying toolset. You might need some remote controls at hand, address book access, or installed apps overview, and the app has your back covered. It's taken into account other possible use cases and can come to your air when:
you've been out of touch with your kid or another family member and want to know where they are
you need to double-check their messages to make sure they cut ties with certain people as you agreed
remain hidden while doing this and a good couple of other spying activities
Conclusion
If you feel like going down the rabbit hole when thinking about which Instagram spy app will suit you most, seek the support of products that suit you in terms of compatibility with the OS version, functionality, and of course, have a good reputation.
(Visited 28 times, 1 visits today)