QuickBooks is hands-down the best accounting software available on the market today. A wide range of businesses and entrepreneurs use this efficient program to manage their finances, pay bills, calculate taxes, etc.
If you're already an established QuickBooks customer, then there's no doubt that you've faced some bugs or errors when it comes to Company Files.
Well, in this article, we will explore several strategies for recognizing, preventing, and fixing this bug while also discussing how to work on easy-to-use QuickBooks recovery software if you find one!
How to Identify Corruption in QuickBooks Company Data File?
You have to figure out whether the file is infected before you can patch it. Here are some symptoms of corrupted data: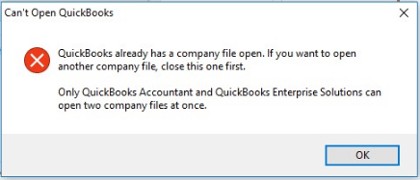 A data problem prevents QuickBooks from continuing during the Verify Data process when opening the Qbwin.log file
Your Transactions and Listings are missing. You might see asterisks (*) which were placed there by QuickBooks; this means that the original account numbers were missing
Transactions and entries are missing from list menus (e.g., Customers List)
While saving or deleting a transaction, QuickBooks unexpectedly closes
The QuickBooks desktop application is slow or glitch while it runs, so paid bills appear as unpaid balances instead of being marked as Paid
While navigating through various tabs in the Help screen (including Send Feedback Online and the Bug Report window), you encounter a random number of characters flashing before your eyes as an HTML Code
Wrong report generation in the Balance Sheet section where total assets and total liabilities don't match up with equity.
Data corruption in QuickBooks can ruin the day for any business owner. One minute everything is fine, but then disaster hits and you see a strange mismatch of numbers followed by something like a corrupted file.
Good news! Step one is admitting that there's a problem; now let's move on to step two – how do we fix this issue? Let's take a look…
How to Fix Corruption in QuickBooks Company File?
If your QBW file has become corrupt, you can repair it manually, with free tools, or by using QuickBooks recovery software for the company file.
Method 1: Manually Repair the Data
If you are one of those people who have the patience to manually resolve errors, follow the steps for repairing data with a Verify & Rebuild Data utility.
First, open the data file and login as an administrator.
Choose Single User Mode to start verifying your data files by tapping on File.
Click on "Utilities". Choose "Verify Data" from the list of available options.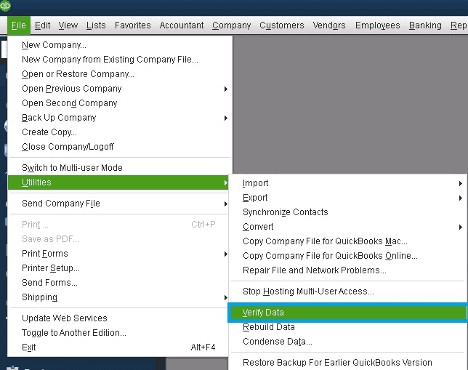 This process may take time if the file is large – so be patient! If it takes too long or does not finish, please choose to completely rebuild the data instead as follows,
From the server, make a local copy of the data file
If necessary, enable temporary hosting on your computer
Once done, open up the data file with an administrator account. Next, go to File → Utilities → Rebuild Data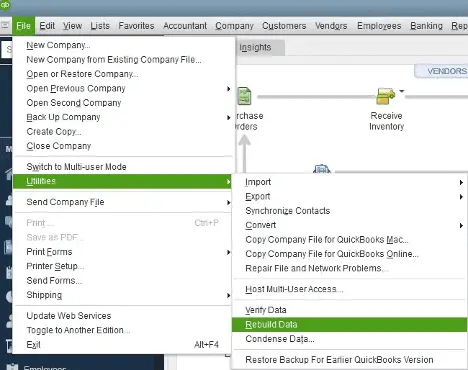 Once you complete the rebuild, save a copy of the fixed QBW file on both the local computer and the server for backup. Give this new/re-generated file a different name than the original one so as not to overwrite it or conflict with it.
Method 2: Free Tools
Even though the manual method is one of the easiest ways to work and also an easy process, it can take up a lot of time. For this reason, users have the option to use free tools which allow them to repair their company files for QuickBooks. Below we list out some of the most common and best-known ones.
Reboot.bat
The first tool that should be used is Reboot.bat, which reinstalls various QuickBooks software files with Windows. This tool is typically utilized by QuickBooks users to remove this kind of issue.
QuickBooks Component Repair tool
Next up, there's a QuickBooks Component Repair Tool. As its name indicates, this tool can be utilized to repair problems that might prevent the performance of QuickBooks.
QuickBooks Install Diagnostic Tool
The QuickBooks Install Diagnostic Tool is a program typically utilized by QuickBooks users to diagnose and remedy various common issues associated with QuickBooks, mostly relating to the Microsoft .NET Framework.
QuickBooks File Doctor
The last available option is the File Doctor Tool for QuickBooks. This tool helps fix several types of file corruption, as well as Windows setup problems, and network set-up issues.
Method 3: QuickBooks Company File Repair Software
Even if these free tools can fix some of your QuickBooks troubles, this isn't always the best way to go about things. If you want a more efficient and effective solution to repairing corrupt QuickBooks company data files (QBW), try using Stellar Repair for QuickBooks® Software which is effective software that repairs QBW files, recovering every little piece of information stored within it and even coming with a useful feature which allows you to extract lost data from QBW backup files (QBB).
In addition, this software provides free previews of recoverable data from corrupt QBW files.
How to prevent QuickBooks company file corruption?
It is important to note that, no matter what type of file you may save onto your computer or any other device, it's always a good practice to make sure they're backed up. Therefore, the best course of action would be prevention; but sometimes this can only go so far because there are certain limits.
One way to try limiting this damage could be through taking preventive measures such as following the steps provided below,
You should always back up your data for safety's sake. It doesn't hurt to do so multiple times or store the files in different places – this will give you an extra layer of protection against data loss.
It's also important to keep track of the size of your QuickBooks database file and make sure it doesn't go over its limit; if it does, then try reducing its size with third-party software.
Finally, watch out for viruses by avoiding installing suspicious software or opening unknown attachments in emails—it could end badly.
The Real Case:
One of the most significant issues facing an emerging private pet food manufacturing company was its size at nearly 3.5 gigabytes (3500 MB), it contained about 15 years' worth of data. What made matters worse? Over $100,000 in accounts payable vanished without a trace, as did massive drops in inventory valuations and dollar values for retained earnings.
The company ended up consulting with a QuickBooks Certified Advisor who helped them reduce their compressed file size via the clean-up company data feature so they could keep track of all the information.
Take the necessary steps to reduce the size of your QuickBooks file. One helpful tip to avoid data file corruption in QuickBooks is to use the Condense feature – a new update from Intuit that allows you to remove unneeded list items and transactions, saving up to 30% of your hard drive space!
Winding Up!
This article has helped us understand why you might be having issues with your QB company file. We also talked about how to fix it manually and some free tools that could assist when repairing a QuickBooks.
Moreover, we discussed possible preventive measures you can use to avoid problems with a company file becoming corrupted in the first place.
Nevertheless, if you're unable to troubleshoot this issue after using those methods and tools, then we recommend using the QuickBooks File Repair Software and finding an easier solution right away!
(Visited 24 times, 1 visits today)