With the current inflation rate over 6%, skipping full-price payments has never been as attractive to shoppers, regardless of age, gender, and economic status. As a result, more consumers are seeking print and digital coupons for great savings.
According to a 2022 survey by the US Consumer Reports, almost 30% of Americans frequently use coupons, while 45% take advantage of them occasionally. Finance website CreditDonkey likewise discovered that over 96% of millennials use coupons to plan their shopping list and are scraping online and offline sources to boost coupon usage. Similarly, almost 50% of shoppers earning at least USD$150,000 use coupons over 50 times yearly.
Price increases or not, smart consumers should always seek ways to optimize value for their hard-earned money. Below are some strategies you need to adopt, whether starting a couponing journey or boosting your game plan.
1. Understand how coupons work
Discount coupons are primarily classified as store or manufacturer offers. Knowing the promotional source is key to understanding how to use them.
For instance, store vouchers work in a particular chain or selected store branches, so you can't use them elsewhere.
Conversely, manufacturer coupons are offered by the product maker or service provider and can be used in outlets where they're available. Browsing the same site above leads you to numerous product-specific discounts, including a 75% reduction for a three-month accounting software subscription and a USD$600 discount for the 12-month Medical Admission College Admission Test preparatory course.
2. Explore all coupon sources
Paper vouchers are tucked in newspapers, magazines, and other publications. Meanwhile, digital coupons can be found in newsletters, on social media, or on third-party websites. DontPayFull.com is one of the best sources were you cand find promo codes, deals, and discounts for over 15.000 online stores.
But you don't limit yourself to these sources. Improve your couponing power by:
Asking family members and friends for copies of the Sunday newspaper
Checking the stores for free magazines or in-store promotions
Reviewing receipts for discounts and deals, especially on your next purchase
Inspecting product packaging and boxes for voucher inserts, etc.
Examining your mailbox for coupon forms, etc.
Downloading store apps or brand apps on your phone for rebates, discounts, and other exclusive deals
As one of the primary marketing tactics, coupons can be found everywhere, online and offline. The value of digital coupon redemptions was estimated at USD$91 billion for 2022. Knowing where to look is the first step in couponing effectively.
3. Keep a folder and organize your paper coupons
Experienced coupon users must be organized to know when to use the coupons and where to take them. There's no one-size-fits-all storage system, although most agree that keeping these forms in a small transparent binder and arranging them based on their expiry dates helps.
Similarly, some shoppers prefer to arrange their paper coupons by store or product manufacturer. Sometimes, a binder can be too large to take to the store, so place the coupons in your wallet before heading out.
4. Subscribe to discount sites
Discount aggregator sites are helpful when seeking the widest selection of coupons and discount vouchers that suit your needs. Moreover, some of these sites offer exclusive deals to their members, which can further reduce spending.
Whether dealing with digital or paper vouchers, it pays to set notifications a few hours before a coupon's expiry date to prevent wasted opportunities.
5. Practice coupon stacking
Coupon stacking lets buyers use several coupons, leading to more savings. For instance, you can use store and manufacturer discounts, loyalty points, rebates, etc., when buying an item, as long as applicable. Some shoppers call this coupon' matchups.'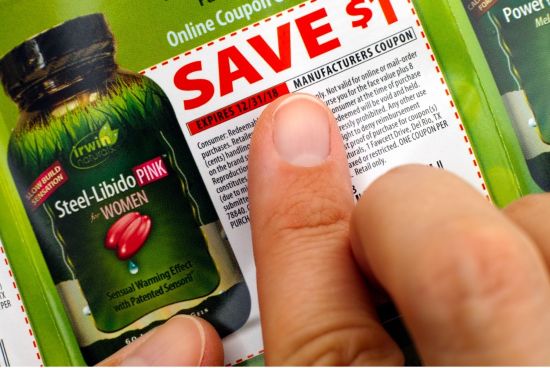 6. Use coupons for items on clearance sale
Some stores allow buyers to use discount vouchers on clearance aisles items. If you see a useful product in these sections, ask whether you can use your coupon. Doing so lets you get the item at virtually no cost.
7. Join store and product loyalty programs
Product makers and stores often have retention programs that reward loyal customers with points, rebates, discounts, and other deals. Sometimes, they offer welcome gifts to newly registered members or referrals. Participating in these programs is a good way to save.
8. Familiarize yourself with the store's sales cycles
Knowing which products are offered on sale at certain times of the year can help buyers determine the best time to use their collected coupons, especially if these aren't time-restrictive. Seasonal goods like Christmas decors often go on sale at the year's opening, so if you plan to purchase them at low prices, look for coupons you can use during this period.
9. Join coupon user communities
If you want to be updated with your area's latest and upcoming deals, join a community of coupon users. Sometimes, these people can be great sources of the best-kept information about sales, discounts, and other promotions.
10. Download apps and ask for coupons
Lead generation, or identifying potential customers, is one of the most challenging business tasks. Make the first move by downloading the official app and contacting the store or manufacturer to ask about discounts and coupons. They'll likely respond positively and give you what you want, extra perks included.
11. Use a calculator and always compare costs
Besides creating a grocery list based on the coupons, buyers must use a calculator to compare savings. For instance, some vouchers may have an "any-size" discount, so it pays to confirm whether you're getting the best deal by buying the smallest or the biggest product.
The upsides to using discounts and coupons
Aside from making online shopping more enjoyable, below are the stand-out benefits of using vouchers and coupons:
Saves costs
Enables the purchase of more items
Makes costly products more affordable
Prevents costly splurges
Introduces buyers to new products
Businesses from all sectors use vouchers, discounts, and coupon codes to attract new clients or retain customers through coupon marketing tactics, making them highly accessible offline and online.
The downsides to using discounts and coupons
Despite these upsides, using them does have drawbacks. Here are the most common disadvantages:
Third-party discount sites can't guarantee the advertised prices.
Most deals have expiry dates.
Some coupons limit the number of redemptions (i.e., first 100 buyers, etc.).
Locating print and virtual coupons takes time.
They're only available in exchange for your email or other information.
Coupons can promote unnecessary spending among some users. Having coupons might force them to buy things they don't need.
How to ensure the deals are legitimate
Paper coupons are almost always legitimate and useful, except when they expire. And while numerous sites claim to offer real deals, it isn't always the case. In such situations, consumers must ensure the site is reliable before registering.
Look for unbiased user reviews and read what consumers say about specific deals as part of the vetting process. Legitimate sites provide clear details and terms without pushing you to purchase discount codes and coupons.
If you want peace of mind, download the app or log in to the manufacturer or store's official website to confirm the offer.
Bottom line
Discount vouchers come in paper and digital formats and cover almost all products and services, whether online merchants or brick-and-mortar shops. If you want to purchase anything without breaking the bank, digital coupons offer the best solution. A recent study discovered that households could save USD$1,465 annually with an effective couponing system.
But being a successful coupon user requires patience, organization, and strategy. That's because collecting discount codes takes time, and determining where, when, and how to use them is crucial. Follow the tips above to optimize savings and get your money's worth.
(Visited 28 times, 1 visits today)