After coming into the social media space in 2017, TikTok launched a platform for over 1.2 billion users to create content relating to all aspects of their social life, ranging from educational content to fashion and lifestyle, product and advertisement, social concepts, political issues, and much more.
It is only natural for young and fun-loving adults to gravitate toward it. TikTok allows its young users, including college students, to create contents that capture the different aspects of their eventful life, from the parties to the raves and all the juicy details and gossip about life on campus.
Apart from giving online help with homework like the Studybay website, TikTok provides college students with new and unique information that allows them to develop new and exciting educational visual aids. This also assists in online research for school projects and other course work.
With millions of exciting content being churned out daily on TikTok, creating your unique content consistently might be a tad bit demanding. However, here are fifteen mind-blowing and unique ideas about your college life that will spice up your TikTok channel.
TikTok Ideas About Life in College
TikTok encourages you to think outside the box, creating fresh and new ideas free of plagiarism and piracy. Carving a niche for yourself in the exciting world of TikTok can be confusing and frustrating without an idea source. Luckily, being a college student provides you with a wealth of events and activities that serve as fun inspirations for your TikTok page. Some of these ideas are:
1. Visual Aids and Tutorials
Most students see learning as a tedious chore that they have to bear and stomach, but what if there was a way to make learning fun and engaging?
With the help of TikTok, this is now achievable. You can now create engaging content with simplified facts, educational nuggets about your classes, and short tutorials to aid in better understanding and assimilation.
Remember to make your videos as simple and exciting as possible; the goal is to make learning fun, not to confuse further and bore your audience.
2. Fashion Tips and Hacks
The college campus has different people with unique styles and fashion ideas; this creates an opportunity to develop your fashion-inspiring content featuring beautiful ideas and fashion tips from other college students.
You can conduct interviews and gather ideas from other students on how to style outfits, DIY designs, fabulous hairdos, skin care regimens, and other fantastic concepts. Be sure to infuse your content videos with trending songs or audio clips to spice up your videos and keep your audience engaged.
3. Putting Science to The Test
Naturally, scientific theories are complex and challenging; therefore, you can create videos and perform simple experiments using real-life scenarios and occurrences to certify or debunk these theories. This is a fantastic way to raise controversies and engage your audience in the comment section. Feel free to let your imagination go wild; the wilder, the better.
4. Campus Monuments and Landmarks
Every campus has a story, symbol, or monument it holds dear, from its mascots to its sports teams, crests, school spirits, and statutes. You can create content to promote memorable events and symbolic activities.
5. Content Collaboration
If you are new to TikTok, the best way to build a brand is to collaborate with popular TikTok influencers who create similar content and have an existing fan base. This allows you to build your brand and increase your reach on the platform.
6. Songs and Audio Clips Lip-synch
Songs and audio clips lip-synch are one of the most popular trends on TikTok; what better way to create content about your college life than to tap into existing trends? From popular and short phrases in popular songs to audio clips from movies and videos your targeted audience can relate to. Create funny clips and videos that make you lip-sync your way into your audience's heart.
7. Challenges and Hashtags
Whether on Instagram, Twitter, YouTube, or any other social media platform, the most effective idea to help you build a fan base as a college student is to join in on trending challenges and hashtags.
You can then take these trending hashtags and challenges up a notch by rebranding them and infusing your unique trends and ideas that will appeal to your targeted audience.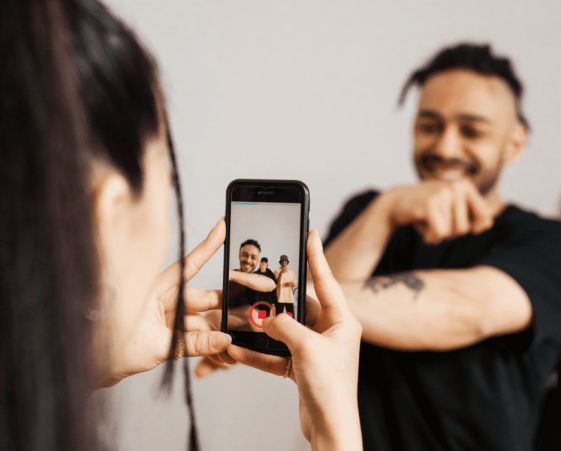 8. Show Your Talent
Everyone has something that makes them unique; we all have our own 'thing' that we do effortlessly and beautifully. It might be artwork, painting, dance, culinary skills, music, or even comedy. You could also show off your 'thing' and wow your audience effortlessly.
Remember that presentation is essential in showing off your talent; you can present them in slow/fast motion videos and cool captivating slides. The goal is to entertain and not to bore; feel free to express yourself as you see fit.
9. Brand Ambassador
A large number of students in college either have a brand or a small business that they are looking to promote. Your TikTok page gives you the platform to become their designated brand manager through which you will encourage small businesses, make money, and increase your fan base.
As a brand ambassador, you should create short and exciting tutorial videos on using the products, their importance, and their benefits.
10. Live Stream
Campus life is exciting and eventful enough as it is, so why not share this with your audience? You can create live streams about all the crazy college parties, raves, sporting events, and other activities that make your campus exciting and unique.
Hosting Q & As or interviews on trending and pressing issues is another way to keep your audience entertained and also an avenue to engage them in the comment sections.
11. Make-over
Makeover videos and tutorials are effective ways to build a brand for yourself on TikTok. You can give yourself a makeover while telling stories and giving juicy details about your college experience. Trust me, combining these two activities simultaneously locks down your audience's attention and keeps them wanting more of your content even after your video ends.
12. Health and Fitness
Being healthy and staying fit is the order of the day; therefore, people want to see your workout and invent healthy food recipes. Infuse your videos with trending songs and dance steps and also be sure to let them see all the sweat and intense workout moves.
If you are not someone who exercises a lot, an idea is to try collaborating with other TikTok workout and health influencers. Diversify and show your audience what they want to see.
13. Display Your Weird
TikTok allows you to express your unique personality and truly be yourself.  You can create videos of yourself doing silly and weird things, and you never know; your audience might relate vividly to your weirdness.
You can play pranks and engage in silly challenges just for fun. This strategy allows you to create straightforward content and enjoy being yourself while at it.
14. Daily Vlog
Details such as getting ready for lectures, conversations with your roommate, getting breakfast, or even having a splendid time with your significant other might seem like random information to you. Still, there is something about getting a glimpse of someone's reality that keeps people engaged, do well to give it to them!
15. Special Events and Holidays
You can derive concept inspiration from special holidays and events such as Halloween, Christmas, Easter, and other fun holidays. You can also provide your audience with news and gossip about celebrities at special events such as the Oscars, Grammies, and BET. People want to know 'what this celebrity wore to that event' 'who is dating who' and other juicy and spicy details.
Final Thoughts
Being a college student can be stressful; what better way to let out some steam than by creating fun and exciting TikTok content? While creating great TikTok ideas relating to your college life can be a bit tasking, always remember to have fun and enjoy the process.
(Visited 25 times, 1 visits today)