Social media is a great place to make a passive income even when your schedule is packed. In this article, you'll learn how to create an educational Instagram blog.
Social media is one of the modern sources of information people use to educate themselves on a regular basis. It's not just about communication, creating posts, or entertainment. Many people use social channels like Instagram to get some education, learn something new, and get inspired.
If you see yourself in the role of a teacher and would like to share some knowledge with others, you can actually do this on Instagram! The best part about this is that you can do it in your spare time, and earn money from any place and with minimal effort. If you are a student at college or university looking to make some extra bucks, you can create your own Instagram classes and earn some cash with this.
Now you're probably wondering – when will I have the time for all this? The best thing about this is that it doesn't take long to create content for Instagram. Even better, you can hire essay services and tell them do my home work for me at any moment. This should give you more than enough free time to spend on your Instagram educational blog.
If you want to learn more about this, go through our short guide on how to create and run a successful blog on this platform.
Create an Educational Blog on Instagram
Let's first go through the creation of such a blog.
1.   Research the topic
The influence of social media on your education can be amazing because, while working on your blog and social account, you'll learn and teach at the same time. But, to do this right, you first need to choose a topic you are good at and can share your knowledge with others.
When choosing a topic, start with a niche that you are passionate about and think that is trending. It's good to check out your competition, too – this will tell you what to bring attention to and show you what works.
2.   Pick a Delivery Method
Your primary delivery method is Instagram, but there are tons of ways that you can use to deliver content on this platform. The best thing is to plan to mix different forms of content to keep your followers engaged.
So, consider your options.
Captions
Most of the educational content on Instagram is found in the captions. There's a 2,200 character limit to pictures on images, which gives you enough room to explain a concept or share a short, concise message.
Content in Images
You can also add some content to your images. One very popular feature of Instagram is the Carousel Post i.e. the option to upload more than one photo at once. This goes up to 10 photos. If you make them educational, you can share an entire story within a single post. You can even add a description to the images to help the visually impaired users.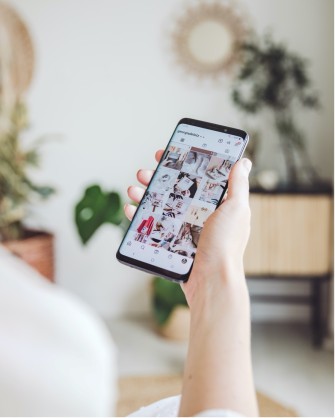 Videos
Videos are really trending these days. Instagram videos are getting at least double the attention of users compared to images. Don't forget about videos – this is one of the best ways to share information nowadays. Since you'll be creating educational content, it's also an amazing opportunity to connect to the student and make the lessons more engaging.
Instagram Stories, Live and Reels
Everyone who uses Instagram knows that the most frequently visited feature is the Instagram Story. This is where people share everything from images to videos, to notifications about their new posts. Stories last for 24 hours, but you can later put them in highlights so that your followers can go back to the educational content and check it again.
You can also go live, which is a wonderful way to teach an audience. Turn your content into a webinar where you'll share a lesson or communicate with your followers.
Lastly, you can use the Reels feature, a very popular option toady. This is perfect for short topics that can be combined with visual content.
3.   Get to Action
Once you decide this, it is time to get to action! Write that content, plan for what you'll write soon, and work on your marketing. You might even want to invest in some ads to get more followers faster. Then, it will all depend of the quality of content you deliver.
Good luck!
(Visited 56 times, 1 visits today)